Winners Sports Bar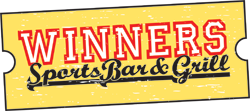 Our Winners Sports Bar is a great place to grab a refreshing beverage and some tasty food while you watch your favorite game!
Monday - Saturday
11 a.m. - 1:30 a.m.
Sunday
12 noon - 1:30 a.m.
Watch your favorite sports on our Hi-Definition TVs. Draft beer selection of 16 ounces
and 20 ounces. Choose from pizzas, burgers, wings and more.